Why is it important to know about online shopping in the USA? What about it? And you shouldn't be reading this tips if you are not interested to know (Remember A.B.C.D.E.)
First of all, online shopping is becoming a common thing now in Malaysia but not many know that you can shop the USA stores from Malaysia. Do you know about it?
The advances in internet in today's world has enable us to do cross-border shopping, yet not many know about this or if you know, you might not want to go through all the complexity such as international shipping, currency exchanges and Customs clearance process.
You must be extremely happy if I said that you now can shop anything you want from the USA, and no need to travel and no need to be worried about your purchases are lost in the way or anything nightmares that people usually had when shopping from the USA!
Here I compiled a simple ABCs abut what people do not know about shopping online in the USA.
Remember this A.B.C.D.E. Tips
A – Authentic and branded items almost sold out everyday This is true, and you have to get it fast. Once sold out, you can only get it on marketplaces at a higher price!
B – Bonuses on purchases such as Buy One Get One (BOGO) and FREE shipping I personally love this especially when buying kids clothes. Some also offers cash back and rewards on next purchases
C – Clearance sales can go crazy especially towards the end of season For example if you aim to buy branded sport shoes, look out for sales at the end of winter or early spring; around Jan-March.
D – Deep discounts up to 70% off This is especially true for branded bags, clothes and other fashion accessories. Normally the same item in Malaysia is pricey compared to USA, plus you got yourself a new design.
E – Easy to return goods or get replacement I was super convenient to use the return service whenever I found the item received not as expected. Remember, you only get this if the item is still in USA or within the return policy term.
"I'm in Malaysia, how can I shop US stores? How about shipping?"
You can read more about Exaira, and How It Works (click this link)
Join our Telegram Channel For Latest Sales Updates in the USA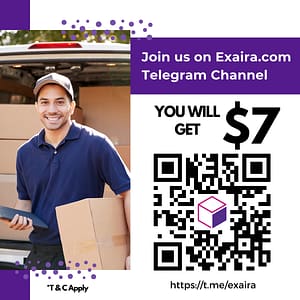 We are actively sending updates on deals and promos happening at the USA stores on our Telegram channel (click the link to join us)
If you like this, follow @exaira_official social media to show your support!
I'll share tips & hacks how you can shop like the American, safely from the comfort of your home without travel there!